Products - Mobile Shelving Applications

How much space will you need in the future? Will you need to reorganize or relocate your office? Will your storage and filling requirements be greater? Many companies will be faced with these questions at one time or another.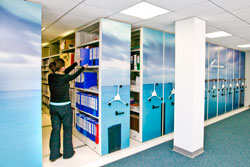 Euromech offers you modular shelving, mobile shelving, expandable, portable and economical mobile storage and filing shelving system solutions. Designed to be configured and reconfigured easily and efficiently, these movable shelving storage systems and high density filing systems can be adapted to your specific needs. Euromech products are ideal for storing colour-coded files, suspended folders, data materials, books, stationery supplies and many other materials.
With its mobile filing systems and shelving systems, Euromech can also provide you with office storage and filing solutions for each department of your company:
Administration
Archives
Personal Effects
Library and Multi-Media