Products - Mobile Shelving Applications

Saving space, maximizing storage capacity, reducing costs and controlling unauthorised access are the constant concerns for managers of archives, broadcasting (media, magnetic tape, film cans) and storage facilities.
Archives, films, tape, videos, discs. We can store everything with our media shelving system.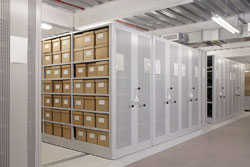 Euromech has the largest portfolio of storage shelving products for fixed and high-density mobile storage systems. Archives shelving for storage of archival boxes, media shelving for storage of magnetic tapes and film cans, Euromech's high density shelving systems are renowned to be the smoothest and safest systems in the industry.
Euromech can provide high density storage solutions for your specific storage needs:
Archives
Blue Prints
Books
Boxes
Media
Magnetic tape
CDs or DVDs
Collections
Files
Film Cans
Golf Bags
Skis and Boots
Tools
Videos (VHS Tapes)
And anything else you can think of...