Case Studies - Case Studies

Client:
Schenker DB Logistics
INTEGRATED SOLUTION
New Three-Tier Shelving System For Schenker DB Logistics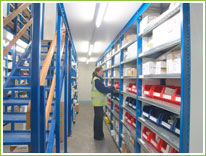 Schenker is one of the world's leading integrated logistics service providers. In addition to land, air and sea transportation services, the company also handles an increasingly wide range of logistics tasks for its customers.
One such activity is undertaken at the company's North Dublin facility with the handling, storage, commissioning and shipping of semi-conductor parts and accessories. The company required a practical solution for the storage of such items within a high-pick environment, but with limited available floor space. Working closely with Schenker, Euromech designed and installed a three-tier shelving system that provided the company with the storage capacity required and the necessary high-pick facility.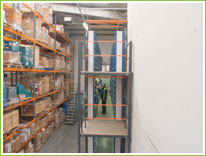 The new structure is 6.8 metres in height and comprises two mezzanine floors with a total floor area of 266 square metres, including shelving, access stairs, walkways, handrails and pallet access gates. A total of 250 bays (790 square metres) of adjustable steel shelving were installed, each bay having 8 shelf levels in height complete with solid back and side panels.
Unlike conventional steel mezzanine constructions, the shelving structure supports the two mezzanine floors. The structure retains the versatility of conventional mezzanines in that it can be easily expanded,
moved or modified for future requirements.
To enable quick stock replenishment and retrieval at the first and second mezzanine floors, an access platform was designed for each level for the placement of pallets. Safety was paramount in the design of these platforms, with each area enclosed by steel handrails and pallet access gates. Richard Riddler, Supply Chain Manager, Schenker DB Logistics: "From the initial drawings provided by Euromech to the finished installation, at every stage I was impressed by their response time and professionalism. I am extremely pleased with the completed system."