Man Made Mountain
Euromech has completed one of the largest Pallet Racking installations ever seen in Ireland for Tesco's new €70m Distribution Centre at Donabate, North County Dublin.

The 780,000 square foot facility employs over 600 people, and has a handling capacity of 1.5 million cases per week. It manages and distributes all ambient grocery (packaged and processed) and some non-food products for Tesco's network of 106 stores.
The new state of the art Distribution Centre utilises Tesco's own Distribution Management System. Specifically designed for and owned by Tesco, this proprietary system provides an integrated IT solution and links every aspect of Tesco's Supply Chain from warehouse to shop floor.
Centralised Distribution
Prior to Donabate, a network of five Distribution Centres located in the Dublin area supported all of Tesco's stores. These included the Tesco operated centres at Ballymun, Tallaght and Ballycoolin and two sites operated under third party contract at Parkwest and Ballymount. Following the opening of the Donabate facility, the network was reconfigured to feature three major centres: Donabate, Ballymun and Tallaght. The activities undertaken at Ballycoolin, Parkwest and Ballymount have moved to the new depot at Donabate.
Project Objectives
Maximise storage capacity
Achieve high productivity and operational efficiency
Obtain high bay load capacity and flexibility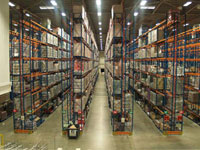 The Storage Solution
Following a rigorous tendering process, Euromech was contracted to complete the fit-out of Adjustable Pallet Racking, Mesh Shelving and Mesh Partitioning for Tesco's new facility.
Euromech's Project Management Team co-ordinated all aspects of the fit-out, from product design to final installation, working closely with the client to ensure that the system was installed to budget, and on time.
Pallet Racking
Accommodating Tesco's huge product range meant one of the largest installations of pallet racking ever seen in Ireland.
Over a 20-week period, Euromech installed 87 individual aisles of adjustable pallet racking.
Each 87 metre-long row comprises 31 bays of 12.3 metre-high racking, with each bay having 6 beam levels of various widths.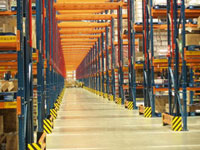 This has provided Tesco with a total storage capacity of approximately 76,000 pallets.
As the racking is being serviced by wide-aisle reach trucks for pallets located above the first beam level and by low lever order pickers below, Euromech specified its Sacrificial Leg system on the front of each individual upright in each rack run where it considered the racking would be most vulnerable to impact from order pickers.
The Sacrificial Leg provides a cost-effective and time saving solution to the problem of repairing damaged frames. A removable section, fitted to the bottom of the front upright, can be quickly and easily replaced without dismantling the frame and more importantly removing the pallets supported by the frame.
Fact: - 15.6 kilometres of racking was used in the project (end to end)
Equivalent to 52 Eiffel Towers
More than 10 times the height of Ben Nevis
Deeper than the Mariana Oceanic Trench
Mesh Shelving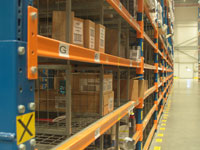 For storage of Tesco's vast range of non-palletised goods, Euromech designed and installed a series of 250 specialist storage and shelving bays for Tesco. The wire mesh storage bays are located at ground level throughout the pallet racking at the new warehouse.
Euromech developed the innovative storage solution in response to Tesco's brief to maximise storage space within the new warehouse. The project involved building new shelving bays to provide denser storage capacity for smaller items such as homewares, textiles, cosmetics, electrical items and some food and pharmaceuticals.
The new storage solution has proved extremely effective, enabling Tesco to create 12.5 additional product locations for each single pallet location that has been removed, providing storage for a much higher volume of merchandise within the same floor area.
Another advantage of the new shelving systems is their ease of installation and adjustability. Euromech custom-designed a new fitting for the Tesco project which makes the shelving particularly easy to assemble and also to adjust if required in the future, keeping installation time, and therefore costs, down.
To further increase storage density and flexibility, vertical mesh divider panels were installed throughout the shelving, creating separate storage 'compartments' for different types of merchandise. This allows the shelving to be fully utilised and easily accessible and so is particularly suitable for these types of non-palletised goods.
The wire mesh divider panels also improve fire protection and safety standards. In the event of a fire, the wire mesh design permits smoke and heat to filter through to trigger smoke detection systems and allows the effective penetration of sprinkler systems. As a further safety measure, Euromech also supplied Anti-Collapse wire mesh back panels to prevent items falling from the shelving and injuring personnel working nearby.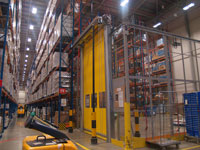 Mesh Partitioning
Finally, a 1,500 square metre section of the Tesco depot is dedicated to the storage of high-value items, and is secured by Euromech Mesh Partitioning. Access to this area is restricted by a keypad-operated hinged door and roller-door, the latter enabling access by forklifts and other materials handling equipment.
TESCO DONABATE…DID YOU KNOW?
Can fit 5.4 Croke Park pitches or 16 jumbo jets
Distance to walk around the depot is 1.4km / 0.85 miles
Can store 38 million 2-litre bottles of cola
Supplies 106 Tesco stores daily, with up to 6 deliveries each day
Has 78 goods doors and 111 loading bays
2,750 tonnes of steelwork was used in construction of the facility